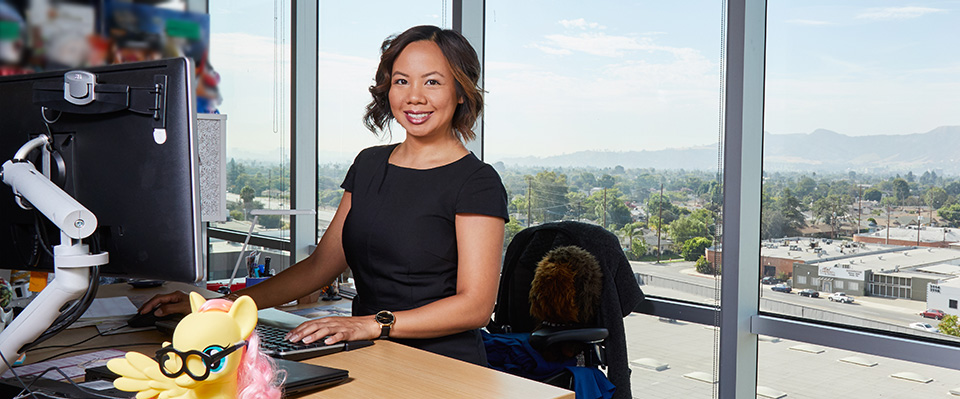 Sales and Retail Merchandising
Sales
Our Sales team is Hasbro's main business point of contact with the retailers who sell our product. We play an instrumental role in achieving Hasbro's financial objectives by working closely with our counterparts in Marketing, Customer Strategic Marketing, Trade Marketing, Licensing and Product Supply to build distribution and promotional plans that connect consumers with Hasbro's products anywhere they shop. We're also responsible for forecasting and communicating the amount of product needed to support plans which drives Hasbro's manufacturing schedule and inventory investments.
Retail Merchandising
Hasbro's Retail Merchandising Organization (RMO) is a professional field organization that allies with our Sales and Marketing divisions to deliver timely strategic field service to Hasbro's major retail partners. We work energetically to assist our retail accounts by driving and executing corporate strategies and initiatives. Our goal is to increase sales of Hasbro toys and games, as well as licensed and entertainment immersions and to deliver our mission of Creating the World's Best Play Experiences. RMO regularly earns accolades from our retail customers as being the "best-in-class" retail organization in the our industry.
Send me alerts every days
Results 1 – 17 of 17
Page 1 of 1
Search results for "". Page 1 of 1, Results 1 to 17
Title
Location
Date
Retail Merchandising Representative - Dayton South

Dayton, OH, US

Apr 2, 2020

0.00 mi

OH

Dayton-Retail-Merchandising-Representative-Dayton-South-OH-45390

Merchandiser P/T - Aurora, CO

Aurora, CO, US

Mar 29, 2020

0.00 mi

CO

Aurora-Merchandiser-PT-Aurora%2C-CO-CO-80010

Merchandiser P/T - Austin North, TX

Austin, TX, US

Mar 29, 2020

0.00 mi

TX

Austin-Merchandiser-PT-Austin-North%2C-TX-TX-73301

Sr. Manager- Analytics and Insights

Providence, RI, US, 02906

Mar 27, 2020

0.00 mi

RI

Providence-Sr_-Manager-Data-Analytics-&-Reporting-RI-02906

Part Time Merchandising Representative - Indianapolis North, IN

Indianapolis, IN, US

Mar 24, 2020

0.00 mi

IN

Indianapolis-Part-Time-Merchandising-Representative-Indianapolis-North%2C-IN-IN-46201

Part Time Retail Merchandising Representative - Indianapolis South, IN

Indianapolis, IN, US

Mar 24, 2020

0.00 mi

IN

Indianapolis-Part-Time-Retail-Merchandising-Representative-Indianapolis-South%2C-IN-IN-46201

Retail Merchandiser Rep P/T King of Prussia, PA

King of Prussia, PA, US

Mar 23, 2020

0.00 mi

PA

King-of-Prussia-Retail-Merchandiser-Rep-PT-King-of-Prussia%2C-PA-PA-19406

Merchandiser P/T - South Oklahoma City, OK

Oklahoma City, OK, US

Mar 18, 2020

0.00 mi

OK

Oklahoma-City-Merchandiser-PT-South-Oklahoma-City%2C-OK-OK-73101

Retail Merchandising Rep - Katy, TX

Katy, TX, US

Mar 18, 2020

0.00 mi

TX

Katy-Retail-Merchandising-Rep-Katy%2C-TX-TX-77449

Merchandiser P/T - Salt Lake City North, Utah

Salt Lake City, UT, US

Mar 18, 2020

0.00 mi

UT

Salt-Lake-City-Merchandiser-PT-Salt-Lake-City-North%2C-Utah-UT-84101

Retail Merchandising Rep P/T Davenport, IA

Davenport, IA, US

Mar 18, 2020

0.00 mi

IA

Davenport-Retail-Merchandising-Rep-PT-Davenport%2C-IA-IA-52801

Account Manager - 18 month contract

Mississauga/Toronto West, Ontario, CA

Mar 17, 2020

0.00 mi

Onta

MississaugaToronto-West-Account-Manager-18-month-contract-Onta

Retail Merchandiser P/T - Fremont, CA

0, CA, US

Mar 16, 2020

0.00 mi

CA

0-Merchandiser-PT-Fremont%2C-CA-CA

Merchandiser P/T Saratoga Springs, NY

Albany, NY, US

Mar 15, 2020

0.00 mi

NY

Albany-Merchandiser-PT-Saratoga-Springs%2C-NY-NY-12201

Retail Merchandiser P/T- Napa, CA

Napa, CA, US

Mar 15, 2020

0.00 mi

CA

Napa-Part-Time-Merchandiser-Napa%2C-CA-CA-94558

Retail Merchandiser P/T- Puyallup, WA.

Puyallup, WA, US

Mar 10, 2020

0.00 mi

WA

Puyallup-Retail-Merchandiser-PT-Puyallup%2C-WA_-WA-98371

RMO Rep P/T Brandon, FL

Brandon, FL, US, 33511

Mar 9, 2020

0.00 mi

FL

Brandon-RMO-Rep-PT-Brandon%2C-FL-FL-33511
Results 1 – 17 of 17
Page 1 of 1
Send me alerts every days